WordPress has certainly grown beyond its early days as a platform that primarily drove large websites and blogs.
WordPress now drives over 40% of websites, including large institutional and enterprise websites for schools and universities, higher education, healthcare, hospital systems, manufacturing, SaaS, and law — just to name a few.
As your WordPress site grows, some of the builtin WordPress tools don't scale well, so you'll need to add some plugins to make WordPress function as an enterprise CMS as opposed to a blogging platform.
Here are some of the top plugins you'll need to make sure your WordPress site is ready for lots of content, a packed media library, and deep menus.
Permalink Manager Pro
Category: SEO, Information Architecture, Navigation
Link: https://permalinkmanager.pro/
With a large site, you'll want full control over your permalink structure. In other words: the ability to set the URL slug of any post or page to whatever you want it to be, regardless of what the global defaults are.
Permalink Manager Pro allows you to customize the full URL path and slug on a per-page basis, in addition to setting custom, global rules that apply to custom page types or custom post types.

PublishPress Capabilities
Category: Content Authoring, User Access
Link: https://publishpress.com/capabilities/
On a large site with hundreds or thousands of pages, you'll likely need a custom editorial workflow and fine-grained control over user permissions.
PublishPress provides several compelling plugins that are worth looking into, but PublishPress Capabilities is our favorite for providing granular access control, content workflow states, and custom permissions. For those familiar with Drupal, PublishPress Capabilities provides functionality similar to the Workbench and Workbench Access modules, but in WordPress!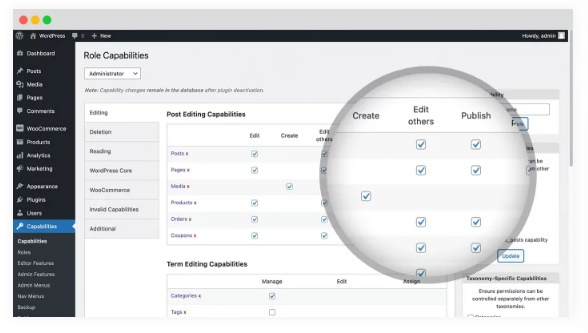 Autoptimize
Category: Caching, Performance
Link: https://wordpress.org/plugins/autoptimize/
Autoptimize does just what its name suggests – it automatically optimizes your site by aggregating, minifying, and caching scripts, CSS, and other assets so that your site only sends the smallest possible amount of data to the browser. This type of optimization increases the performance of your site, and is critical to passing Google's Core Web Vitals.
Wordfence
Category: Security
Link: https://wordpress.org/plugins/wordfence/
If you've got a WordPress site for a large enterprise or institution, you'll want to maximize the security of your site by installing a security plugin.
Wordfence is a comprehensive security plugin for WordPress, providing a host of necessary features to harden your site against attackers. It provides proactive blocking of malicious traffic, login security, malware scanning, and other features necessary to keep your WordPress site protected.
Menu Manager Ultra
Category: Admin Experience, Menu Management, Information Architecture
Link: https://www.jkplugins.com/wordpress-menu-management-plugin/
As your site grows, it becomes clear that the default WordPress Menu Management tool wasn't designed to scale. You need a menu management and menu editing plugin for WordPress that allows you to easily manipulate a menu with dozens or hundreds of items, without slowing down or causing server errors when trying to save your menu.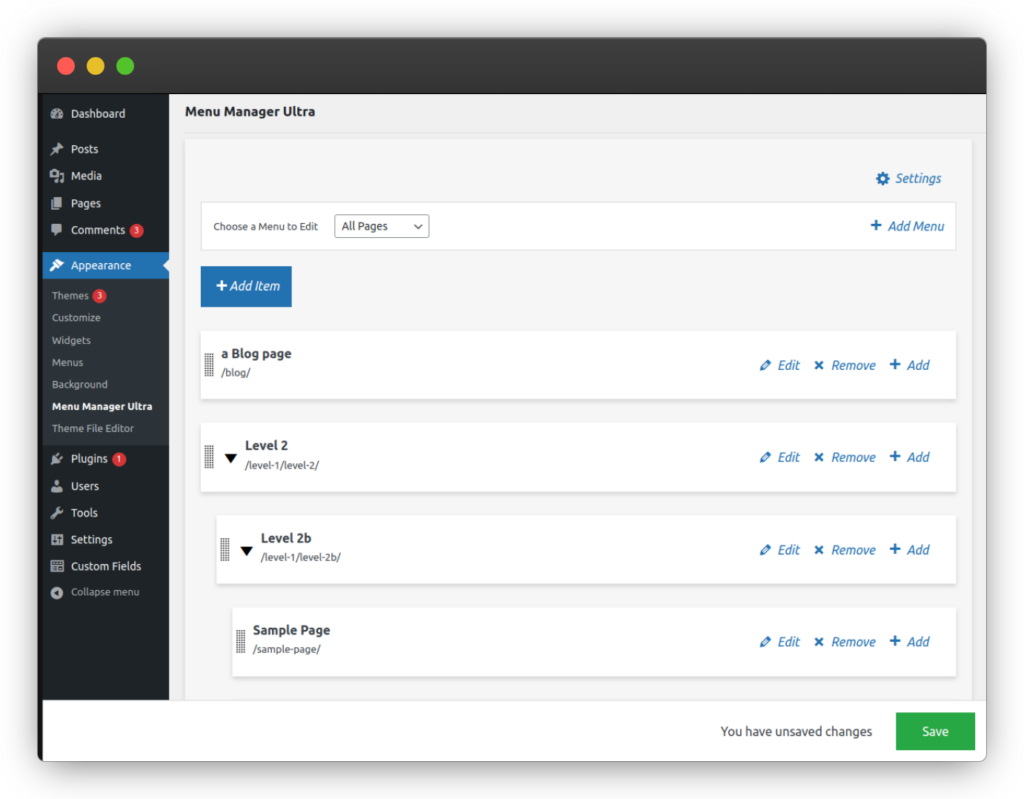 Allows you to easily re-order menu items and nest them in the drag and drop interface
Works with large WordPress menus of any size
Allows you to see custom fields in your menu list, which is extremely useful if you have multiple pages with the same title
These are just a few of the most important WordPress plugins for large sites with many pages of content. Of course, the plugins you choose will depend on your specific needs and goals, but these are a great starting point. Remember to choose plugins that are actively maintained, have good ratings and reviews, and are compatible with your version of WordPress. With the right plugins, you can significantly improve the functionality, speed, security, and optimization of your WordPress site.